Plush Loon Toy
DONATE AT LEAST $100 AND YOU WILL RECEIVE A PLUSH LOON TOY THAT MAKES AUTHENTIC SOUND!
Teach kids the songs of birds in a fun and creative way. This plush toy bird is not only realistically detailed, but when squeezed lightly, it plays its authentic bird call. This 5" plush toy bird was authentically designed with markings approved by the National Audubon Society and bird calls recorded by the Cornell Lab of Ornithology.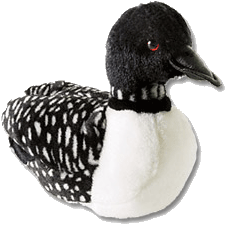 Birds resembling loons first evolved 130 million years ago. This primitive bird has since become a symbol of grace, beauty and wildness for many people. Native Americans believed it was "The Spirit of Northern Waters" and the French named it "The Diver with the Necklace".
Concern for Vermont's loons became acute during the mid 1980's when the total number of breeding pairs dipped to seven. The sharp decline, attributed to nest site disturbance, loss of habitat, and heavy metal contamination, sounded an alarm for the state's ponds and lakes. As consumers of fish at the top of the freshwater food chain, loons are recognized indicators of water quality and ecosystem integrity.
Loons were removed from Vermont's Endangered and Threatened Species list in April 2005.  
Make your donation today
You Can Learn More About Loons
• Get the Lead Out Loon Watch Volunteering

• Loon Vocalizations. What are you hearing and what does it mean?

• Vermont's Wildlife Heritage

• Frequently Asked Questions About the Loon